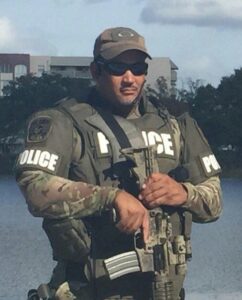 Raul Rivas grew up in the Orlando area. After graduating high school, he attended college and obtained an Associate Degree in business.  Raul then enlisted in the Army Reserve, and served overseas during Desert Storm.
Raul was sworn into the Orlando Police Department in 1992.  He was first assigned to midnight patrol.   Then he had stints on the bicycle squad and gang unit, before moving on to a multi agency undercover drug task force named the Metropolitan Bureau of Investigation (MBI).
Raul was a field training officer and developed an interest in investigations and Swat.  Raul spent 12 years in the robbery unit with cross sworn duties with FBI Safe Streets and ATF Violent Crimes task forces.   At the same time, Raul was an assault team member on the Swat team. Raul moved to the Fugitive Investigations unit and was cross sworn with the U.S.Marshal's. Raul has received numerous awards and accolades to include the Award of Valor, Field Training Officer of the Year, and Swat Operator of the Year.  Raul currently sits on the Swat Roundup International committee.
Raul Rivas served 18 yrs with Swat team and served as an Assistant Team Leader.  Raul was one of the Swat team members involved during the "Pulse night club incident" shooting in Orlando, Florida. Raul received an Award of Valor for his actions and involvement in the Pulse Incident. Raul retired from the Orlando Police department.